Inspire Others with a Distinctive Image Every brand possesses unique characteristics that can be effectively defined through the thoughtful use of typography, themes, colors, and more. At Sageties, we streamline the process of crafting a brand identity by offering a comprehensive range of corporate branding services tailored to your specific business needs. Our aim is to ensure that your business develops a distinct identity that sets it apart from the competition. We are proud to have a dedicated team of creative directors, graphic designers, video animators, and project managers who are committed to delivering the highest quality of services. REQUEST A QUOTESEE OUR WORK Comprehensive Corporate Branding Solutions Creating a Voice for Your Company Sageties is an ISO 9001:2015 certified company with a wealth of experience and a sterling reputation for delivering exceptional brand identity design services. Our legacy as a brand identity design company spans a full 360-degree range of branding solutions, and it has garnered acclaim from a vast global clientele. We provide world-class services to help you establish a unique brand identity for your business. Whether you require a captivating logo, corporate presentations, brochures, or business cards, we are your one-stop destination for all your corporate identity design needs. Logo Design Services Crafting Memorable Logos Business logo design lies at the very heart of your brand identity and has the power to shape perceptions about your business. A logo serves as the initial visual cue, making it a critical and effective tool for brand recognition. Logos should be distinctive, iconic, attention-grabbing, facilitate quick recall, and, most importantly, reflect your business identity. Our exceptional logo design services are dedicated to delivering results that stand out in design, effectively convey your brand, and trigger instant recognition. VIEW MOREBrochure and Promotional Material Enhancing Marketing Materials These tools play a vital role in physically marketing your products or services to your intended target audience. Customized business brochures, product catalogues, presentation folders, and more can be used to promote your company and offerings. Aesthetics are crucial for enhancing engagement. When your marketing materials are visually appealing, you can anticipate an increase in conversion rates. Our brochure design services are tailored to ensure that your promotional materials leave the right impression with your intended audience.
VIEW MORECorporate Identity Design Establishing a Consistent Image Corporate identity design services assist in creating a visual aesthetic for your business, projecting your distinctive image, and setting you apart from competitors. It conveys a message to your target audience, demonstrating your commitment to success, fostering trust, and offering insights into your business's cultural personality. A consistent corporate identity ensures that your company is remembered and recognized. VIEW MOREExplainer Video Engage with Informative Videos With the proliferation of smartphones and faster internet speeds, there is a growing demand for explainer videos. Videos provide a comprehensive understanding of your products and services through audio-visual means, which is often easier for people to comprehend and remember. As a leading explainer video company in India, we create business videos with high production value that are easy to understand, helping you attract more customers. This, in turn, boosts web traffic and enhances conversion rates. VIEW MORECorporate Presentations Engage Your Audience with Impactful Presentations Presentations are frequently employed by corporations to present ideas and proposals to prospective clients in an engaging manner. They can bring boardroom meetings or client presentations to life with compelling visuals, attractive designs, and easily digestible content. If you wish to create captivating corporate presentations with a professional look and feel that leave a lasting impact on your audience, we are here to assist. Our customized corporate presentations reflect your brand identity at cost-effective rates. Custom Illustrations Engaging Visual Storytelling Custom illustrations are a powerful way to captivate users, as they capture attention and facilitate social sharing, aiding in explaining your products, services, offerings, and ideas in a visually compelling manner. Sageties boasts a team of highly experienced illustrators who excel at understanding your requirements. This enables us to deliver top-quality output tailored to your specifications, allowing your business to present itself more effectively. If you need further content or have specific requests, please feel free to provide additional details.
Corporate Branding Services
Build an Image that Inspires Others
Every brand has some unique characteristics that need to be defined by proper use of typography, themes, colours, and more. At Sageties, we simplify the process of brand identity design by providing a wide array of corporate branding services tailored to your business requirements. We ensure your business develops a unique identity and stands apart from competition. We have a passionate team of creative directors, graphic designers, video animators, and project managers committed to providing you with the highest quality of services.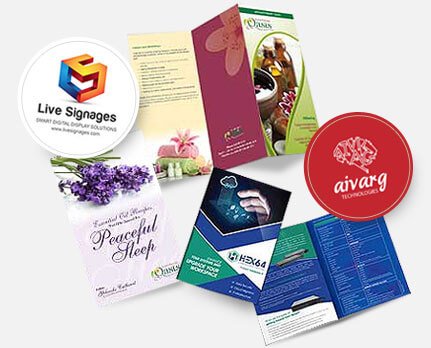 Partner with Us for Optimal Corporate Branding Services
Check out why Sageties Marketing is your best bet to receive excellent and comprehensive corporate branding services:
Extensive Research
We start working with a complete understanding of your target audience and value propositions.
Original and Customized
We don't believe in generic templates and deliver 100% original and customized solutions.
Team Work
Our in-house team of illustrators, graphic designers, marketers, and copywriters collaborate to deliver the best possible outcome.
Brand Consistency
We ensure to maintain your brand niche across all the promotional materials to maximize its potential.